An adult considering a cochlear implant will first be referred to the Cochlear Implant Surgeon by either their General Practitioner or as a subsequent referral by their local ENT Consultant.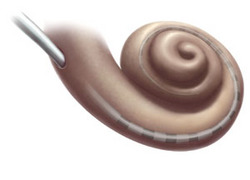 There are certain factors which must be considered before a adult is referred to us as a suitable candidate for a cochlear implant. The following conditions will normally need to be met.
Adults should have a severe/profound bilateral sensori-neural hearing loss.
Average aided responses should be greater than 55 dB across the frequency range from 2kHz up to and including 4 kHz.
There has only been minimal benefit from appropriately fitted, high powered hearing aids.
Consistent hearing aid use is being actively sought locally.
Other issues to consider are:
Patients whose severe or profound hearing loss is a consequence of meningitis should be'fast tracked' regardless of hearing aid use. This is to reduce the risk of cochlear ossification. These patients will be prioritised throughout their assessment process.
Where auditory brainstem response testing is used as the basis for referral or to provide additional information, this should be performed in line with national recommended procedures.
Each adult should be medically fit for surgery.