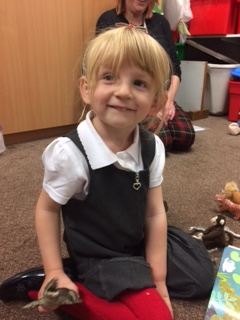 You will be seen by the audiologists, who will take a full audiological history and complete a hearing test. This may happen over a number of appointments. Most families who arrive in clinic will be familiar with a hearing test. However follow the links below if you would like to find out more information.
How will you test my childs' hearing?
There are a range of age appropriate tests we can perform to gain information about your child's hearing. We can use some objective measurements (this means tests without your child needing to be actively involved in the test), or subjective measurements (this means testing with your child, through play or visual rewards).
Does my child need to do anything in the appointment?
We try and make the appointment as fun as possible. We have a variety of toys and games we can use during the assessment. We will often have to examine your childs ears: we understand for some children this can be upsetting, whilst others don't mind. If you think there may be anything helpful to bring along to the appointment, such as a comforter or special toy, please feel free to do so. We just ask where possible to keep this out of view until it is required, as not to distract from the play with the audiologist: this may include milk, snacks or drinks.
My child just had a hearing test locally, can you not use these results?
The hearing tests from other departments will be used as part of our assessment. Where possible we will use information from our own assessments to help inform the decision regarding cochlear implantation.
Cochlear implants require programming so that they can enable your child to hear. This is done with testing which looks very much like the tests you may have had locally.
If your child is a candidate for cochlear implants we would see them regularly in our audiology clinic. It is therefore important that your child gets to know our environment and audiologists to build confidence in this setting.
Can I help my child prepare for the appointment?
If your child is around 2 years or older you can try practising 'Ready, Steady, Go!' games.
There are some resources available HERE that you can use to help prepare your child for an appointment.